Question one garnered data around changes in deal flow from 2020 to 2021.
Mirroring the results of our Q3 and earlier surveys, investors saw more deals in 2021 than in 2020. However, there was a slight reported downtick in IOIs issued though closing rates remained steady, perhaps indicating investors are tightening filters up front to chase deals with a higher probability of closing.


Question two asked participants to share current sources of deal flow by percentage.​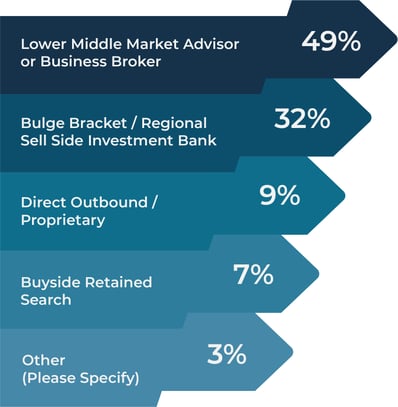 Respondents reported sell side intermediaries are responsible for 81% of deal flow, a slight increase from 76% from our third quarter survey.

This again highlights on the need to nurture and expand those relationships to ensure investors are seeing quality deals matching their criteria. Creative approaches to keep in front of this highly fragmented world are critical to ensure broad, long-term sourcing success.​
Question three asked respondents to comment on their top priorities in 2022.


The market seems poised to stay hot in terms of new acquisitions for 2022 based on investor sentiment in question number three. The top priorities for firms in the new year are to continue to expand to their portfolios through both platform (over 94%) and add-on additions (78%).

Potential for exits and internal operation management trailed moderately behind showing positive trends towards growth.


Question four asked participants to provide insight about the platforms used for deal origination.
Investors utilize varying deal sourcing platforms to aid in growth initiatives with Pitchbook, Axial, and S&P Capital IQ taking the lead. However, platform usage is diverse across the board, as there have been many new entrants to this market in recent years. This indicates that concerted deal origination platforms being collectively used may aid in deal flow quality control.



Question five inquired about the CRM/Workflow tools participants use.


With a fervent deal market, here are the tools our buyers are using to stay organized: Deal Cloud and Salesforce frequented the top of the list (nearly 29% for each). Still a large portion seem to rely solely on Outlook and Excel.




Question six called for commentary around travel plans in the new year.
Video platforms have become a ubiquitous method of keeping connected and it's clear that those tools are here to stay. When compared to 2019 levels of travel and networking events, however, respondents supported more in-person networking across the board, particularly for meeting new people.