As we see vaccination rates climb during the early summer days of 2021, the question most commonly on our mind seems to be: Mask on, or mask off?
That grocery store conundrum is carrying over to the private equity industry, too, and quite literally. With companies and firms returning the work, the way we conducted deal origination has changed and firms are now wrestling with what that will look like moving forward: Travel on, or Zoom on?
TruSight, LLC, a nationally focused buy-side deal sourcing team, recently conducted an anonymous survey of private equity and family office investors. The aim of the survey was to provide commentary relating to common anecdotes within the lower middle market mergers and acquisitions industry using the data garnered in this exercise. These questions are the next iteration of a similar survey from our first quarter 2021 survey [Link Attached] and are designed to establish insights on sources of deal flow and provide commentary on investor sentiment and M&A processes.
Despite an increase in sourcing, fewer deals are closing: More than half of private equity firms are seeing more deals now than in the same period at the end of 2020. But interestingly, most of the firms surveyed said that the number of deals that closed remains about the same. We also noted that signed LOIs have increased without impacting completed deals; are attempts at underwriting "through Covid" running into difficultly?
After Covid-19, firms are split on returning to normalcy or focusing on remote sales: According to our survey, an equal number of respondents said that they expect to travel less as those that said they expect to travel more, confirming that deal professionals are split on the value of face-to-face meetings away from home, relative to the time commitment to travelling.
Firm culture is the leading factor in differentiating when approaching opportunities: When it comes to how firms are standing out from their competitors, speed and price were consistently mentioned, but culture was the leading factor. Firms are positioning their vertical expertise and "CEO/Founder Friendly" approach in attempting to differentiate.
Private equity is looking for platform deals more often than add-on deals: Funds' attention are more focused on platform over bolt on acquisitions due to a platform's strategic relevance to overall fund return, the competitive pricing and related purchase price risk, and the level of diligence and planning required to "get it right".
Question 1 – For January – May 2021 origination efforts, how does your deal funnel compare to the last 5 months of 2020? For each column category, select whether you had more, the same, or less.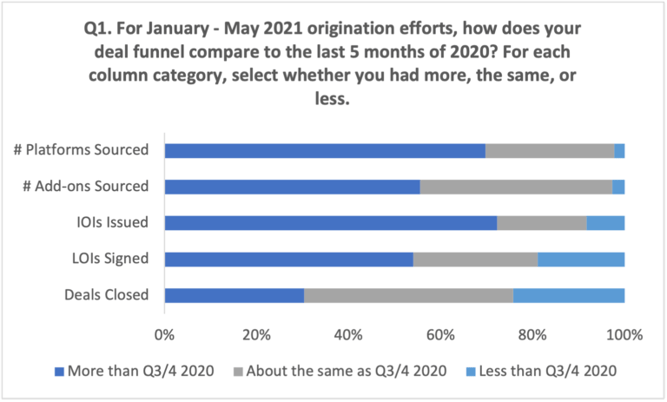 Perhaps it does not come as a surprise that the results show the majority of respondents have sourced more platform and add-on opportunities early in the year. However, the increase in opportunity, does not depict a strong correlation to the number of deals closed, as just 30.3% of respondents have seen increases in putting capital to work.
In comparison to our first quarter survey, the closed deal figure is holds relatively steady with 35% of respondents indicating more closed deal activity for Q1 2021. Anecdotally speaking, there's been a trend in conversation about how competitive the M&A markets are for buyers seeking to source and compete for deals, particularly those represented by highly reputable intermediaries.
Lastly, these results highlight the need to continue broad marketing and messaging efforts to a variety of deal flow sources in order to see the results of aggressive business development efforts.
Question 2 – For highly competitive and very attractive deal processes, what are your preferred tactics or approaches for securing an LOI: (price, speed, culture, etc.)?
Given the competitiveness of the markets, we wanted to learn how those that are successful are separating themselves from the competition. In order of mention, here are the four primary reasons indicated:
Culture – Numerous firms have been willing to travel and schedule multiple virtual meetings with sellers in attempt to best convey who they are as a team and how they work with portfolio companies.

Speed – We've highlighted in the past that speed to conviction greatly enhances a firm's ability to jump on an opportunity swiftly, specifically as it enhances or provides the right fit within their portfolio.

Price – While it's perhaps an obvious strategy, the ability to pay a market clearing price and offering few, if any, financing contingencies is a competitive advantage.

Value –Communicating the importance of providing a value-add partnerships, coupling industry specific skills and experience with adequate funding provides the confidence that these targets will grow post close.
Question 3 – With travel restrictions lifting, are you expecting to have more or less business travel in Q3-4 2021, when compared to pre-pandemic travel habits from Q3-4 2019:
The data shows a fairly even spread amongst the respondents of the survey.On a combined basis, 38.6% of respondents indicated "less" or "much less" expected/planned travel. Similarly, on a combined basis, 45.5% of respondents indicated "more" or "much more" travel.
Thus, we do see an expected shift in travel patterns when compared to the latter half of 2019, but in contrasting directions. Still, we are seeing more in-person networking events populate the calendar through the coming summer and fall months of 2021, so there should be ample opportunity to source deals via in-person networking.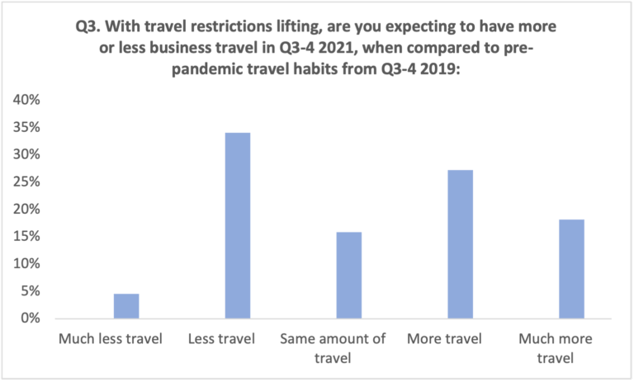 We look forward to discussing these results in greater detail during an upcoming recorded conversation with additional insight from our featured guests who are leading private equity and family office investors within our network.